Meet Grace's Associate Rector
We are thrilled to announce that Father Mike Reardon has joined our church as Associate Rector!
Rev. Mike Reardon (Father Mike) served as Associate Pastor at Haywood Street Congregation in Asheville, NC since March of 2020. Mike oversaw Haywood Street's pastoral care, as well as the church's Mercy League ministry. Having grown up in Connecticut, Mike received his call to ministry through the Episcopal Church in Connecticut, and was ordained to the priesthood in January 2020. He has previously served at St. John's Waterbury, CT, St. Peter's Hebron, CT, and St. Paul's Willimantic, CT. In his free time, Fr. Mike loves exploring in the woods. He is an avid mountain biker, gravel biker, and bikepacker.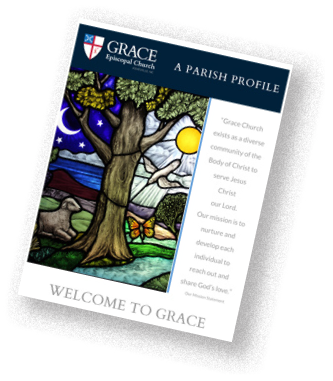 Grace's Parish Profile is available here.
Visit Us
871 Merrimon Ave.
Asheville, NC 28804
Service Times
RITE II   10:30am
Choral and Family Holy Eucharist
Taizé  6:00pm Tuesday
Ecumenical music and prayers in the Taizé tradition