The story of Grace Church began in 1867 when the first rector of Asheville's Trinity Church, the Reverend Jarvis Buxton, built a log chapel in the little north Asheville community of Grace. 
Beaverdam Mission, as it was first known, (later as "Grace Mission" or "Grace Chapel") was an active center of religious life throughout the mid to late 1800's.
A fundraising drive led to construction of the present stone church, which opened for its first worship service on Sunday, May 31,1905. Designed by Richard Sharpe Smith, an English architect who also supervised the construction of the Biltmore House, Grace Church stands today as an excellent example of Gothic architecture.
Unfortunately, by the early 1920's, Grace had reverted to the status of an unorganized mission. Although Sunday school and Sunday services continued, there was no priest in charge. Lay leaders played a key role in maintaining the activities of the church until 1949, when all services were discontinued for several months. Bishop M. George Henry did reopen a Sunday school at Grace during that time under the direction of Porter L. Crisp. It was made up largely of children from Buncombe County Children's Home.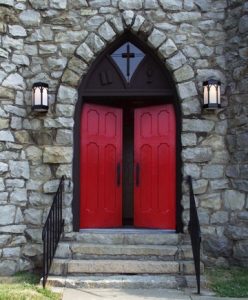 The late 1940's ushered in a new era in the history of Grace, and by 1950, Grace became an organized mission once again. In May, 1960, Grace became a self-supporting parish under the direction of the Reverend Frederick Volbeda. The years he served Grace Church were a time of spiritual growth and major improvements including new oak pews, property for additional parking and a new cloister. In addition, the church's debt was substantially reduced. Increased membership led to the enlargement of the parish house for new classrooms, a new rector's study and a new kitchen, all of which were consecrated during the celebration of the church's centennial in 1967.
In that same year, the Reverend William G. Edwards became the fifth rector of Grace Church. His passion for worship and music as well as his support of and encouragement for lay leadership endeared him to parishioners. He played a key role in adding a third service on Sundays designed primarily to meet the needs of families with young children. It was also during his tenure that Grace took a leadership role in support of women's ordination to the priesthood. Before his retirement, Fr. Edwards oversaw much-needed additions and renovations. The parish hall was enlarged once again. The Urban Garden, used for the interment of ashes, and the Anne Hall Memorial Garden were designed to offer serene space for quiet contemplation. Beautiful new stained-glass windows were also added in the Sanctuary, the foyer and the Edwards Library.
In June of 2001, the Reverend Gary Coffey became the sixth rector of Grace Church. Fr. Coffey is remembered for his gentle ministry of pastoral care and his heart for ministry beyond the church. In his closing words to the parish before his retirement in 2018, he borrowed from Paul's letter to the Phillipians: "…Beloved, whatever is true, whatever is honorable, whatever is just, whatever is pure, whatever is pleasing, whatever is commendable, if there is any excellence and if there is anything worthy of praise, think about these things. Keep on doing the things that you have already been doing, and other things that God will show you to do in the future, and the God of peace will be with you."
During the tenures of Fr. Edwards and Fr. Coffey, the parish was also served by many beloved clergy, including the Reverends Heber Peacock, Susan Sherrod, Derek Harbin, Jane Smith, Tim McCree, Patty Mouer, Austin Rios, Linda Nye and Archdeacon David Nard.
Grace has been further enriched since 2010 by the ongoing ministries of the Rev. Dr. Robert E. Reese, priest associate, and the Rev. Dn. Jeannette Reese. Their many gifts—visiting the sick, making breakfast on Sunday mornings, teaching, preaching, playing in the PubSing Band and the handbell choir, to name only a few—are all accomplished with little fanfare but are integrally woven into the life of Grace Church.
So, what have we learned about ourselves in over 150 years?

As a congregation, we are proud to have grown up in the north Asheville community of Grace.
We have a history of strong lay leadership that, when energized and inspired by the right cause, will get things done.
We are not quitters, even in hard times.
We cherish our clergy and the gifts they bring to Grace. We welcome them with open arms.
And we know that, although our history informs us, it does not dictate what will happen next. We are a congregation trying every day to watch for what God will show us!
Visit Us
871 Merrimon Ave.
Asheville, NC 28804
Service Times
RITE II   10:30am
Choral and Family Holy Eucharist
Taizé  6:00pm Tuesday
Ecumenical music and prayers in the Taizé tradition