Our worship services and Christian formation meetings are held at the corner of Merrimon Avenue and Ottari Street in North Asheville… our ministry is in the World.
We invite you to make Grace your spiritual home.
Together we can grow in spirit and service.
Easter Liberation Bible Study Starts Tuesday, April 6!
Tuesdays, April 6 – May 18th 5:30-7:00 pm. Come to some or all!
How we read the Bible matters. Where we come from and our life experiences inform the way we understand what we read in the Holy Bible and shapes the way we follow the teachings of Jesus. Liberation Theology is a theology grounded in the insight that God sides with the poor and marginalized throughout scripture.
Join Rev. Milly and community leaders such as Tami Forte Logan, Amy Cantrell, Bruce Waller Jr., Nontombi Tutu, Amy Kim Kyremes-Parks and others as we break down the various voices of Liberation Theology during the season of Eastertide. Reading together we can discover how Liberation Theology will inform us come Pentecost and the birth of Church. Please register. The registration form can be found here.
A New Adult Formation Class Begins Sunday, April 18th!
Ever Doubted Your Faith?   Believe it or not, that's a good sign! It means your faith is likely growing. Paul Tillich, the famous 20th century theologian, wrote, "Doubt isn't the opposite of faith; it is an element of faith….Sometimes I think it is my mission to bring faith to the faithless, and doubt to the faithful." Join the Rev. Dr. Sydnor Thompson on Sundays, April 18th through May 23rd, at 9 a.m. on Zoom to discuss Brian McLaren's latest book, Faith After Doubt: Why your beliefs stopped working and what to do about it. You'll get much more from the class if you order the book in advance (available on Amazon). We will be looking at the first three chapters on April 18th: Doubt as Loss; Doubt as Loneliness; and Doubt as Crisis. Sydnor is husband to long time church member Kelly Thompson. He served 38 years as a minister in the United Methodist Church, attended Richard Rohr's Living School, and recently received the Certificate in Spiritual Direction from The Haden Institute in Hendersonville, NC.
Soul-Stirring
Cooking, Bible, and Music
The Bible is meant to inspire, convict, inform and direct. The Bible is personal and communal. Understanding Scripture is hard enough; sometimes living it out in this world can feel next to impossible.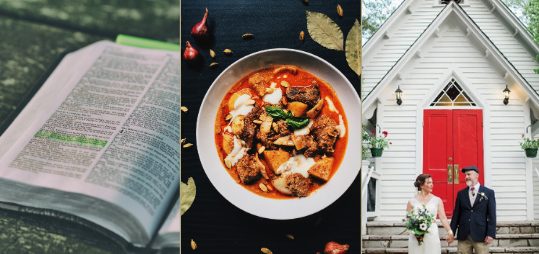 When Bill and I began our living together as a married couple, our kids made fun of us for "arguing" about Scripture and theology while making dinner. But for us, as a couple, and a couple of pastors at that, discussing the Bible while cooking and listening to music is what inspires our love and our living.
What we all need right now, is a little inspiration. So, we are bringing our cooking, Bible discussions, and music choices to you in a "Soul-Stirring" weekly video.
Every week Bill and I will send out a short video offering our take on the upcoming lectionary Scripture readings while we make dinner in our kitchen. Each week, along with Scripture, we will share with you the recipe for the meal we are making that evening, a soul-stirring song that has the power to lift us up, and a few questions that you can reflect on with those you love.
We hope through these informal videos you find inspiration for living better, loving well, knowing the Bible, and knowing those you love more deeply. Look for the first video Feb 10th in your weekly email, just in time for Valentine's Day dinner. (See, this is why our kids make fun of us).
Tabernacle Ministry Begins 
These times we find ourselves in, can feel like we are a people wandering in the desert. Lost and afraid – separated from our community and our deep sense of safety and belonging.
Yet, we are the children of courageous and faithful people who also walked in the wilderness, on their way to the promised land.
While they walked, lost and separated from their temple, they formed mobile worship spaces, small and light enough to carry with them. Spaces where they could gather together until they made it to the promised land. They called these spaces Tabernacles.
The Tabernacle played a crucial part in keeping people connected and engaged with each other. Tabernacles created sacred spaces that called people to prayer and to care for their neighbor.
Tabernacles held the people together, until they could reach the promised land.
Good people of Grace, we are wandering in the desert and yet, we too will reach the promised land. But the journey is far from over and we need sacred space, faithful presence, and prayer to keep us engaged and comforted until we as a people are able to come home, until we too can get to that promised land.
To that end Grace church will begin to create 10+ Tabernacles made up of 7-10 people each. These Tabernacles will offer space and will meet weekly, via Zoom at first, for prayer and fellowship. If the congregant does not have access to Zoom or the internet, weekly contact will be made (by phone or in person) by a member of the tabernacle they are given.
Each Grace congregant will be given a tabernacle and each tabernacle will be "guided" by a vestry member, pastoral care team member or Grace staff member. The purpose of the tabernacle is to create small groups out of our larger church, so that we can ensure every person is getting regular care and is being given a way to connect to Grace. The smaller size of the tabernacle also makes it possible to grow relationships at a deeper level during this time of distance.
We find ourselves in very different and difficult days. We as a church have been doing our best to meet the needs of our growing parish, and yet we are finding that the same ways of doing church and caring for our neighbor, are simply not possible now. Our Tabernacle ministry will help us to create relationships, meet needs and give members a way to stay connected with consistent presence and care.
Over the next week we'll be making up the Tabernacle groups and assigning "guides" to each. Those guides will be emailing or calling you to let you know which Tabernacle you are given. Participation in your tabernacle gathering is of course up to you. It is an invitation, an invitation to connection and fellowship, as we all travel through this wilderness, to the promised land. Rev. Milly's announcement YouTube video can be seen here.
Grace's 2020 Annual Report
Grace's 2020 Annual Report is available here.