Holy Baptism is full initiation by water and the Holy Spirit into Christ's Body, the church. God establishes an indissoluble bond with each person in baptism. God adopts us, making us members of the church and inheritors of the Kingdom of God (BCP, pp. 298, 858).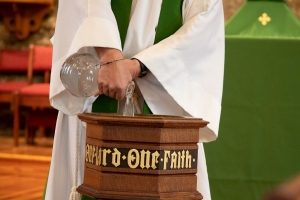 In baptism we are made sharers in the new life of the Holy Spirit and the forgiveness of sins. Baptism is the foundation for all future church participation and ministry.
Our tradition does not allow for private baptisms (unless in emergency situations); we baptize in community. We covenant together with God and the newly baptized (if an adult) or on behalf of the newly baptized (if a child).
Prescribed days for Baptism include, but are not always limited to the following days: 
January: The Baptism of Our Lord (First Sunday after the Epiphany)

The Great Vigil of Easter (The only day of the year for baptism in the early church)

May/June: The Day of Pentecost

November: Feast of All Saints

Bishops Visitation
Baptisms may be arranged at other times of the year, depending on the circumstances. 
To inquire about preparing for baptism as an adult, or to baptize a child at Grace, please contact the parish office.
Visit Us
871 Merrimon Ave.
Asheville, NC 28804
Service Times
RITE II   10:30am
Choral and Family Holy Eucharist
Taizé  6:00pm Tuesday
Ecumenical music and prayers in the Taizé tradition